4 years, it is a few and a lot at the same time. 4 long years to have patience to be able to ride Paris-Brest-Paris, but what a pleasure and what a pride to finish at the same time as the adults. Those which already rode great voyages like this one, like the "Traits d'Union" know something of it: an arrival in front of a few thousands of spectators, that is unforgetable! But 4 years, it is short too. Those which will be 15 years old or more in 2019 must know that it is the year or never to make this mythical excursion, with the young people, that gets along, because after it will be too late.
Paris Brest Paris Youth is actively prepared and will be unveiled later.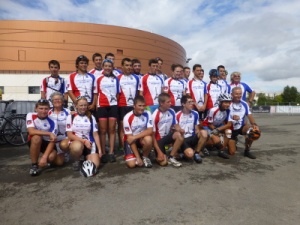 Nevertheless, the route of this PBP could differ little from the 2015 one. Our predecessors had worked well, we collect the fruits today of their efforts. Stages between 90 and 130km, lodgings into houses, a vehicle for the luggage and a refrigerator for the meals and other fresh drinks if necessary, all will be done so that this voyage proceeds under the best conditions.
And for the atmosphere, it will be a priority but on this point, the role of the youths is of primary importance. The framing is there to help, advise, supervise, animate, coddle sometimes, to sermonize if needed. They will do all possible to make each one go back home with a lot of souvenirs and perhaps, who knows, the desire to integrate the team of framing for future excursions.
The number of places should be limited to 30 youths from 14 to 17 years in the year.
Tariff: 600€
Registration : before April 30th, 2019
Organization: SPHÈRE JEUNESSE – JEUNES@FFVELO.FR
You can find more information on the web site of the FFCT at "FFCT – PBP jeunes".